Smoke extraction jet fans
Smoke extraction jet fans
Ventilation and smoke extraction in parking garages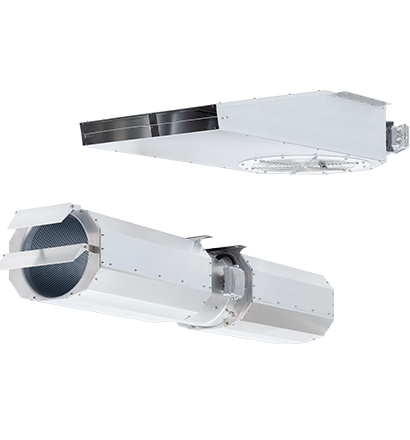 The compact smoke extraction jet fans impress with maximum thrust performance and low sound emissions. Available in axial and centrifugal design, they are suitable for the supply and extract ventilation or smoke extraction in parking garages. The temperature range is optionally at 300 °C/120 min. or 400 °C/120 min. (in smoke extraction mode) or 60 °C for continuous operation.
Shortlinks
Highlights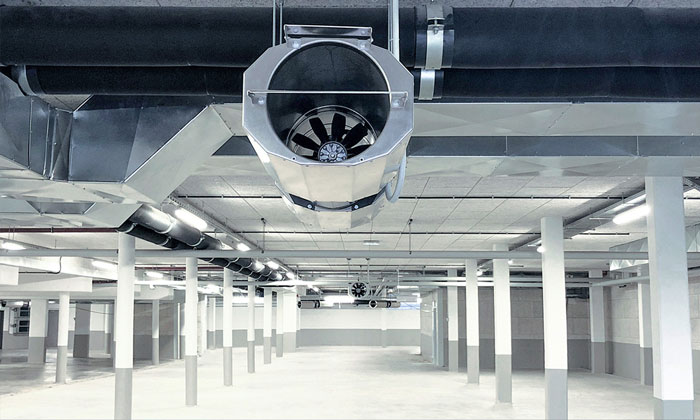 Optimal air quality parking garages
Jet fans are used in parking garages for daily supply and extract ventilation and they ensure smoke extraction in
case of fire. An otherwise necessary duct network is not required – space requirements and installation costs are significantly reduced. In addition, the supply and extract air fans can operate against a substantially lower resistance. This optimises the operating point and reduces the operating costs to a minimum.
Axial and centrifugal smoke extraction jet fans in F300 and F400
Diameter 315-560 mm
Thrust performance up to 75 N

Safety in the event of fire
In the event of a fire, the smoke gases are transported by the jet fans specifically in the direction of the extract air points. By mixing the smoke gases with the garage air, the smoke gas temperatures are considerably reduced. As a result, simpler and faster fire service deployment is possible. In addition, the structural damage caused by localised heat is reduced. In contrast to a duct-guided parking garage ventilation system, the use of jet fans makes it possible to control the air flow in order to ensure continuous and effective ventilation and life-saving smoke extraction in an emergency.